About Botting's Butchery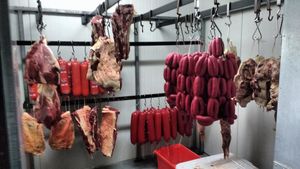 Botting's Butchery is in its fourth generation in Balclutha. Just like his Great Grandad, Craig Botting is an old school butcher who believes in doing things the old fashioned way, which means giving his customers friendly, personalised service and fresh, top quality New Zealand-raised meat.
There's over 80 years of experience behind the counter at Botting's. Come in and see for yourself what makes us the best butchery in Balclutha.
Craig Botting, Owner
Craig is a fourth generation butcher whose family has owned Botting's Butchery for over 85 years. He learned butchery from his Dad after school and started his apprenticeship at 15, before becoming a qualified butcher at 18. Craig enjoys the variety of work he does and has continued the traditions his Great Grandad started years ago.
Craig has been married to Tracey since 2002 and they have two children. In fact, that makes their daughter, Hannah, and son, Kurt, the fifth generation to help out in the shop after school. Craig plays indoor bowls in the winter, fishes in the summer and competes in hose running with the Balclutha Fire Brigade.
Hannah Botting, Apprentice Butcher
Hannah has started her apprenticeship in butchery at Botting's. She is the fifth generation in the business. It's good to work along side Dad and learn from the best (she says).
Hannah plans to be a qualified butcher by 2024, this will be a huge achivement for her. Grandad (Keith) would have been so proud to see his grandaughter working in the family business and doing what he loved.
Hannah enjoys customer service and providing the best quality for her customers. Outside of work she enjoys playing indoor bowls in the winter and hanging out with her friends.
Mike Hosking, Butcher
Mike left South Otago High School in 2001 and completed his Butchery Apprenticeship in 2005. He has been perfecting his knife skills ever since in many different butchery's. He is enjoying himself at Botting's and learning the Botting's way of Butchering.
Mike enjoys getting outdoors and going trail riding and visiting new places with his 6 year old daughter Santana.